BATHROOM VANITIES
Pick the perfect countertop design for your self-care routines. 
Custom Bathroom Vanities in Elizabethtown, KY
At Corvin's, we can deliver the bathroom vanity that matches your vision. We have vanities that already include the top and sink, which can allow you to achieve a DIY installation and save more resources for other projects. We also love the vanity design process and look forward to creating custom looks with gorgeous materials like marble and quartz. You can also select the stylish sink to complete the overall look, an undermount sink that highlights your countertops or a standout drop-in or vessel sink that enhances your room theme. The choices are many and we are ready to help at every step!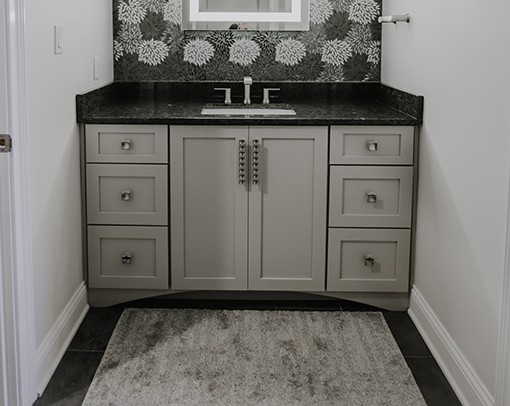 Different vanity types
Depending on the size of your bathroom, you will decide between a freestanding or built-in vanity. Ideal for larger bathrooms, built-in vanities offer more countertop space and more storage options. Freestanding vanities will work well for small bathrooms that need to maximize space. Floating vanities are wall-mounted and don't have legs, which can help smaller bathrooms feel more spacious. Corner vanities will take up less room and make tricky bathroom layouts more usable. If you have the luxury of space, a double-sink variety will allow more personal areas for even more enjoyable routines.
Proudly serving Elizabethtown and the Central Kentucky area with top flooring, cabinetry, kitchen, bath and countertop solutions. Family owned and operated, Corvin's Floors + Cabinets invite you to visit our gorgeous showroom located at 6727 North Dixie Highway, between Elizabethtown and Radcliff.