Bath Basics
Design a dream bathroom that covers all of the key needs.
Bathroom Design in Elizabethtown, KY
Just like the other rooms in your home, a bathroom you love can capture your favorite décor theme and enhance the overall aesthetic in your home. Whether you desire a modern bathroom, coastal chic bathroom, rustic bathroom, or another look, you can find materials you love that will serve the needs of this specific space with ease. The expert staff at Corvin's can help you complete your bathroom project if you are looking to replace one design element or want to remodel the entire room. There's no need to feel overwhelmed when you can find all the bathroom solutions you need in our showroom!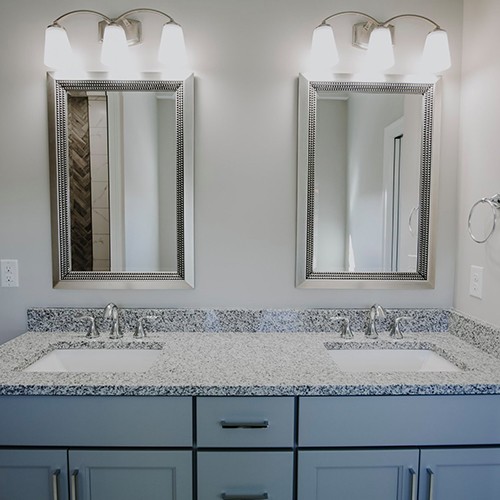 Bathroom Flooring & Design Solutions
It's no secret that bathroom flooring needs to handle moisture, steam, and humidity on a daily basis. Water resistance and slip resistance are the two most important qualities to look for when exploring bathroom flooring solutions. Flooring with waterproof warranties will give you peace of mind around the clock and remain easy to maintain over time. Once you find the right floor for your bathroom, consider an extended wall installation for an overall spa-like design that makes you feel like a VIP!
Proudly Serving greater Elizabethtown, KY and the surrounding Hardin County area with top flooring, cabinetry, kitchen, bath, and countertop solutions. Family owned and operated, Corvin's Floor Coverings & Cabinetry invite you to visit our gorgeous showroom located at 6727 N. Dixie Highway.