Countertop Styles
Explore how different countertop styles can elevate your rooms.
SLAB STONE
Slab Stone countertops such as granite make an extremely popular surface material for kitchen and bathroom interiors since they offer impressive durability and are not prone to scratches, chips, or stains. Tough enough for home, business, and even some outdoor applications, granite countertops are available in a wide range of color patterns for eye-catching home design.
Slab Stone Countertop Experts
Composed of quartz, feldspar, and other minerals, granite countertops feature a trademark speckled visual and wave-like design that is unique to each piece. Actual granite slabs are quarried, chiseled from earth, mined, and cut into size. Granite countertops do require sealing and proper care but will resist liquids with ease and their attractive visual will last for decades.
As a one-of-a-kind natural stone, each granite countertop slab is different and boasts a luminous look that elevates your spaces. Although granite countertops are a major home investment, they will add value to your home's bottom line! Easy to clean with warm water and mild soap, granite countertops are sanitary and will not experience bacterial contamination when properly sealed.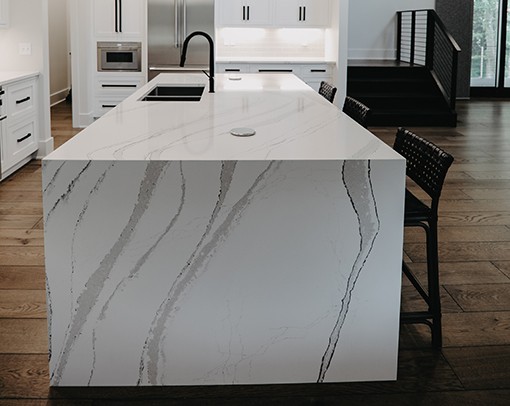 Quartz
Quartz countertops offer exquisite polished beauty and are installed as slabs in kitchens and bathrooms. As an engineered stone, quartz can be stylized with consistency and meet any desired look, color, and pattern. Incredibly durable and resistant to cracks, quartz countertops are nonporous, won't stain, and require no sealing. Quartz countertops are tougher and resist scratches and chips better than many countertop options.
As one of the hardest and most abundant minerals on the planet, quartz is an extremely popular choice for countertops. Quartzite is a natural stone, and quartz countertops are engineered from ground quartzite, resin, and pigments. The amount of natural quartz in a slab will vary between products. The higher the concentration of pure quartz, the stronger and more compact the countertops will be.
Quartz Countertop Experts
On the performance side, quartz countertops are nonabsorbent and will not draw in moisture that can contain harmful bacteria. As a result, quartz countertops remain easy to clean while still offering premium durability. Naturally elegant and polished, quartz countertops can even achieve the same refined aesthetic as concrete with low-sheen finishes.
Laminate
Laminate countertops provide homeowners with distinctive looks that perform like a dream and fit a wide range of budgets, perfect for creating inviting and memorable spaces across a wide range of unique designs. As you explore our interesting, unique, and also recognizable patterns, laminate countertops combine beauty, durability, and easy maintenance as residential and commercial surface solutions.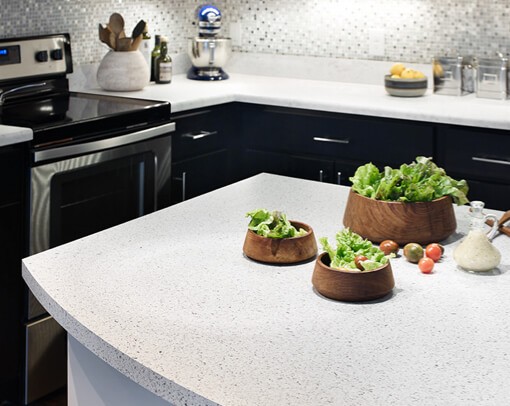 Laminate Countertop Experts
Whether you need laminate countertops for a kitchen renovation or a vanity top for a bathroom remodel, you will love the exceptional product quality and innovative product lines that you can trust in your home. Offering looks with true-to-scale patterns and unmatched visual drama, you can achieve the vision you love and still stay within budget.
In an active home, these durable countertops become incredible time-savers as proper cleaning and disinfecting require very little maintenance. With over decades of expertise to ensure the products we carry meet the needs of our customers, we can help you discover the laminate countertops that will serve your home with savvy style and advanced performance.
Proudly serving Elizabethtown and the Central Kentucky area with top flooring, cabinetry, kitchen, bath and countertop solutions. Family owned and operated, Corvin's Floors + Cabinets invite you to visit our gorgeous showroom located at 6727 North Dixie Highway, between Elizabethtown and Radcliff.