Cabinet Hardware
Hardware enhances the look and function of your cabinetry.
Cabinet Hardware Basics
Not only will stylish hardware make your cabinets look better, they will make your drawers and doors much easier to use. We can help you explore popular bar pulls or pulls for your kitchen cabinets. Ideal for heavy, large, or oversized cabinets, these classic long handles are available in a variety of styles and prices. Whether it's horizontal cabinet pulls for your drawers, or vertical cabinet pulls for your doors, we will help you get the right placement for best performance. Also, you don't have to match your kitchen cabinet pulls or knobs to your faucet: let's explore contrast for the artistic statement you want to make!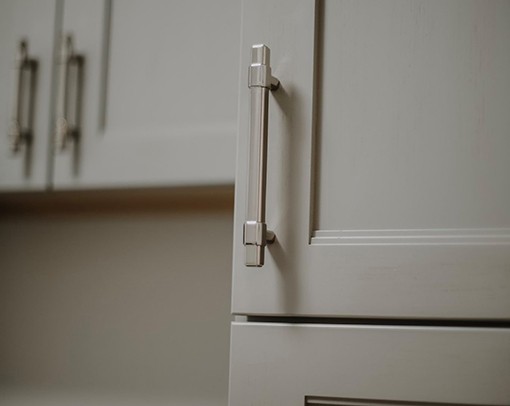 Cabinet & Hardware Color Trends
White is always a go-to cabinet color that's perfect for brightening up a kitchen. We're also seeing colorful, warmer tones making an emergence, usually organics and accents that are featured in the kitchen. Two-toned kitchen cabinets can create a distinctive look, with different tones for upper and lower cabinets! To balance these cabinet colors, cabinet hardware trends include hip matte black for contrast and gold handles for appropriate shimmer that doesn't feel as traditional as brass.
Creating Hardware Looks
When you want to create a unique feel in your kitchen, your hardware selections can help make your cabinets a standout design element. Consider mixing metal finishes within the overall kitchen to add depth! Your cabinet hardware should all be the same finish, but they don't necessarily have to match your faucet or light fixtures. Also, you can mix knobs and pulls on your cabinets for added visual interest as long as you maintain consistency with the finish and styles. Another savvy design concept is using smaller and larger versions of the same pull or knob throughout the kitchen to add dimension.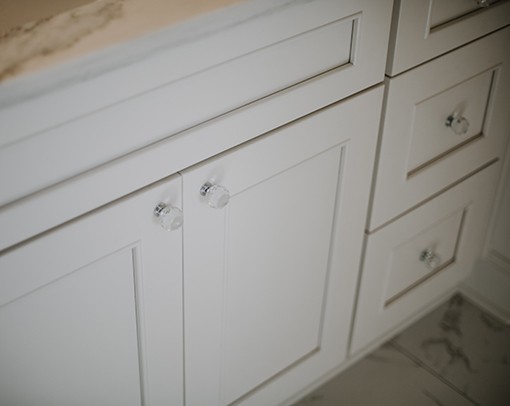 Choosing Hardware Correctly
If you have a busy home with an active bunch that makes easy cleaning a premium, avoid hard to clean handles, knobs, and pulls with little crevices that will collect grime. Depending on how you plan to use your cabinetry, hardware selection can either help or hinder your functional usage. Avoid brass or nickel latches for cabinets that house the most-used items like drinking glasses and plates. Save the fancy features for cabinets that hold seldom used or holiday dishes. Also, invest in high-quality hardware that will last! We can help you explore excellent, durable hardware options that will fit your budget.