AREA RUGS CARE & MAINTENANCE
Give your rugs the love they need with proper regular care. 
Rug Care Experts in Elizabethtown, KY
We love the way our area rugs enhance our favorite décor theme and also protect our floors underneath, so it's very important to show them proper love and care as well. In addition to handling dirt, moisture, and foot traffic regularly, rugs experience an occasional spill or pet accident. Regular area rug care keeps your favorite pieces looking fabulous while preventing any visible stains or noticeable odors from forming. Be sure to take special consideration for the unique construction of each rug in your home and refer to your rugmaker's guidelines. Here are our additional tips on how to care for your area rugs!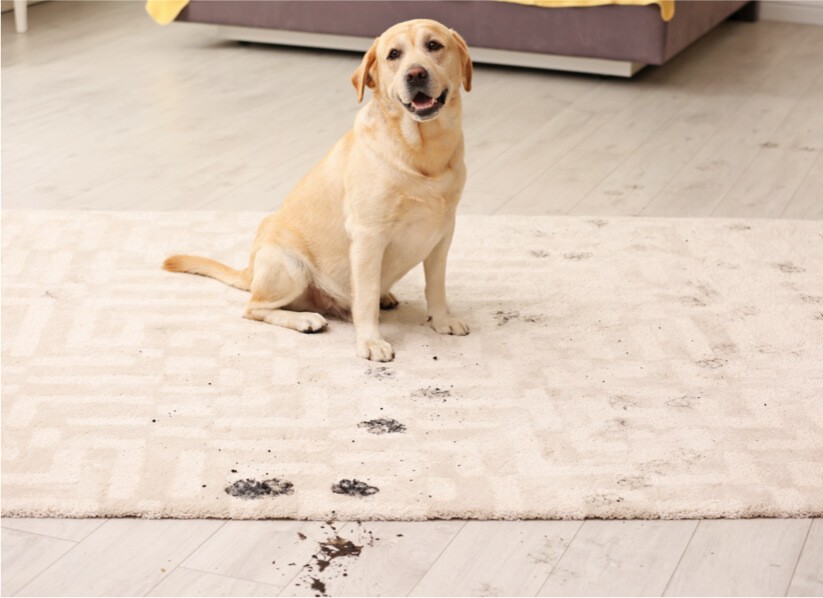 Preventative Rug Care
First, we recommend arming all outdoor entrances with indoor-outdoor rugs and welcome mats for everyone to wipe their footwear before entering the home. These mats and rugs will remove as many elements as possible and prevent footprints, scuffs, and debris from reaching your rugs. In regions with frequent rain and moisture, have both household residents and guests remove footwear by the door on a shoe rack as well. Even if your rugs look great, we recommend a professional cleaning on a regular annual or bi-annual cleaning schedule to prevent stains, odors, and reduce the presence of allergens. 
Regular Rug Vacuuming
Regular vacuuming will remove loose dirt and dust particles from the surface of your rugs to prevent abrasion, damage to the finish, and restore a bright appearance. Avoid using a vacuum cleaner with a beater bar to prevent scratches on delicate rug fibers and check your rug manufacturer's recommendations for specific vacuum models or before investing in a robot vacuum cleaner. Vacuum once a week and take special care when vacuuming around the rug edges and fringes.  If your rug does not allow for vacuuming, be sure to take your rugs outdoors and shake loose any dirt and dust.
RUG SPOT TREATMENT
If a spilled drink or knocked-over plate of food lands on your rug, here's the proper technique for spot treatment. Clean the spill immediately after to prevent permanent stains from forming on your rug. Do not scrub a spill or stain as this can grind the stain deeper into the rug. Use a soft cloth with warm water and blot in the direction of the rug fibers where the stain is. If you need to use a gentle cleaner, always consult your rug manufacturer's guidelines to make sure any cleaner won't harm the color or fibers in your rug.
Proudly serving Elizabethtown and the Central Kentucky area with top flooring, cabinetry, kitchen, bath and countertop solutions. Family owned and operated, Corvin's Floors + Cabinets invite you to visit our gorgeous showroom located at 6727 North Dixie Highway, between Elizabethtown and Radcliff.