Countertop Backsplashes
Use your eye-catching backsplash to enhance artistic appeal.
Custom Backsplash Design in Elizabethtown, KY
For a perfectly-balanced, chic makeover, you have to take all of the major design elements into account. Any room that you have selected striking countertops for, you will typically also have the opportunity to install a backsplash as well. Whether you love quartz, granite, marble, or solid surface countertops, make sure that your backsplash complements your countertop choice to perfection. If these two surfaces do not balance or blend appropriately, the resulting design can likely overwhelm the room. When these two elements work together, the finished results are nothing short of extraordinary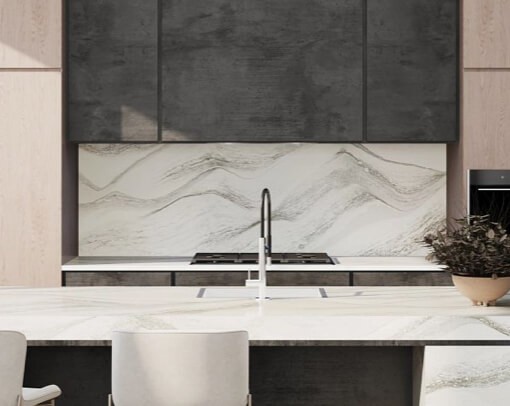 Backsplash Ideas
You can use backsplashes as a way to add a touch of personality into a room. We offer a tremendous array of materials and color choices that will make your backsplash work the way you want it to. You can extend the same countertop material up the wall to create a luxurious vibe. If your countertop visual is relatively calm, a standout shimmer or shine from your backsplash can add visual interest. Maybe you want an accent pattern at the range hood or an artistic mosaic design within a backsplash. Let's make your vision come to life.
Backsplash Materials
Ceramic tile will always be a popular backsplash material for its versatility and the ability to create one-of-a-kind visuals. Tile offers many different shapes, sizes, colors, and patterns to choose from, can be very affordable, easy to clean, and easy to repair over the years. Porcelain and glass tiles are also very popular, lending more expensive appeal and adding value to the home. Natural stone backsplashes certainly add luxury with ease, high durability, and resale value. Consider the ease of installation for your project and the level of backsplash durability needed when selecting materials for your home.
Backsplash Functions
In addition to style, backsplashes serve key functions in the rooms they serve. In both kitchens and bathrooms, backsplashes will help handle moisture from steam and spills. Within the kitchen specifically, backsplashes should be resistant to corrosion, heat damage, household chemicals, and stains from food splatters. Nonporous backsplash materials that resist stains, discoloration, and fading will offer greater protection for your walls and look exceptional for years down the line. Also, the materials you choose will keep your rooms easier to clean and maintain their stunning appearance for longer.
Proudly serving Elizabethtown and the Central Kentucky area with top flooring, cabinetry, kitchen, bath and countertop solutions. Family owned and operated, Corvin's Floors + Cabinets invite you to visit our gorgeous showroom located at 6727 North Dixie Highway, between Elizabethtown and Radcliff.