VINYL CARE & MAINTENANCE
Vinyl flooring makes clean-up incredibly easy in an active home.
Vinyl Care In Elizabethtown, KY
Thanks to modern innovation, it's never been easier to purchase valuable luxury vinyl options that are stylish, long-lasting, and easy to maintain. With regular care and maintenance, as well as taking the appropriate steps to protect the surface, the luxury vinyl floors in your home will serve your family well and continue to look amazing for years. Remember to always check with your manufacturer's care guidelines beforehand, but here are some additional valuable tips for cleaning and protecting your vinyl flooring: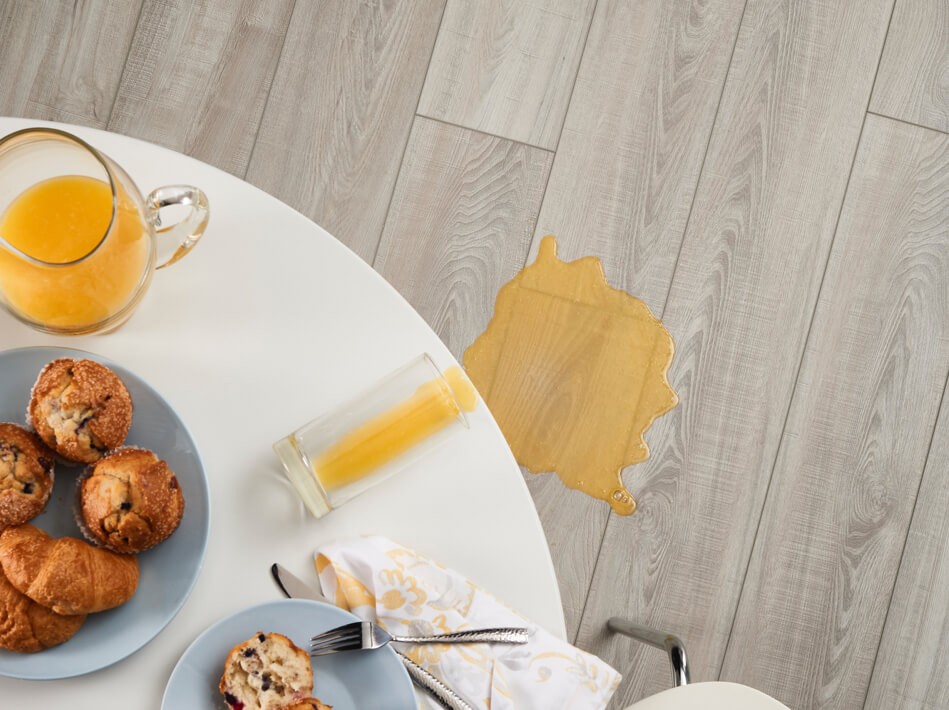 Preventative Vinyl Care
It's always helpful to have residents and guests remove footwear by the door on a designated mat or rack to prevent footprints, scuffs, and debris from reaching your floors. Added area rugs will also help protect your vinyl surface from dirt, moisture, pet accidents, and foot traffic, especially in your entranceways and hallways to remove particles and catch outdoor elements. If you have pets, trim pet nails and claws to avoid creating scratches, and brush your cats and dogs regularly to reduce pet dander. Place felt or nylon pads under all furniture legs and always lift or use a dolly when moving heavy furniture in the home. Avoid using furniture with rollers as these can damage vinyl flooring surfaces.
Regular Luxury Vinyl Care
Always remove loose dirt and dust regularly as both a cleaning and precautionary step. Sweep your luxury vinyl flooring with a soft bristle broom or dry mop several times a week in order to remove particles from the surface, prevent abrasion and damage to the finish, and restore a vibrant appearance. If you want to vacuum your luxury vinyl floor, avoid using a vacuum cleaner with a beater bar to prevent scratches and check your flooring manufacturer's warranty and recommendations before investing in a robot vacuum cleaner.
Spill & Spot Treatment
Wipe spills and spots as soon as you can using paper towels, clean cloth, or damp sponge, and use warm water to loosen any stuck-on stains. Avoid using abrasive cleaners, rough scrubbers, stiff bristle brushes, or steel wool to clean your vinyl surface. If you need more spot treatment, use a recommended vinyl-specific cleaner from your luxury vinyl manufacturer's website. Test any gentle cleaning solution in a less noticeable area and avoid any cleaning products that contain ammonia, bleach, oil, acid, colors, or dyes. With waterproof luxury vinyl floors, you can wet-mop your floors whenever you prefer!
Proudly serving Elizabethtown and the Central Kentucky area with top flooring, cabinetry, kitchen, bath and countertop solutions. Family owned and operated, Corvin's Floors + Cabinets invite you to visit our gorgeous showroom located at 6727 North Dixie Highway, between Elizabethtown and Radcliff.