Cabinet Maintenance
Proper cabinet care will keep your kitchen shining. 
Regular Cabinet Maintenance
When it comes to maintaining your kitchen, pay just as much attention to your cabinets and appliances as you would your floors and countertops! With proper regular maintenance, you can preserve your cabinetry investment for decades. To remove the grime and grease that can build up over time, use a soft cloth dampened with warm water and wipe down your cabinets once every two weeks. Use a little mild dishwashing soap if water alone is not enough. Wipe your cabinets in the direction of the wood grain, and dry immediately with a clean, soft cloth. Only use high-quality polishes that are free of silicone or wax and follow the manufacturer's guidelines for best results.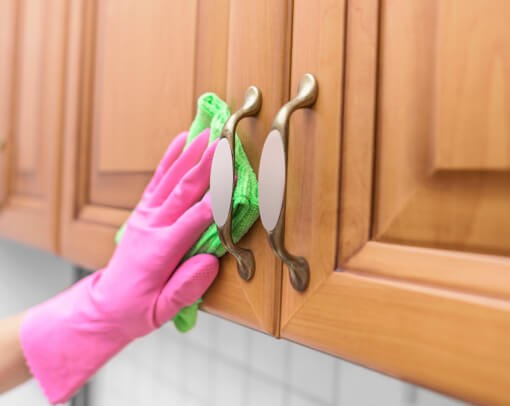 Best Cabinet Care Practices
When spills occur on your cabinets, be sure to clean them off your cabinets with a damp cloth or sponge using blotting action, and dry the cabinet surface as promptly as possible. Since prolonged moisture is problematic for your cabinet finish, keep dish towels from being draped on your cabinets and regularly check the cabinets near your sink, dishwasher, and baseboards for warping. Always avoid using harsh cleaners that contain bleach, ammonia, and acid on your cabinets to prevent finish damage. Be very discerning when selecting waxes, typically a high-quality furniture polish will be the best fit.
Proudly serving Elizabethtown and the Central Kentucky area with top flooring, cabinetry, kitchen, bath and countertop solutions. Family owned and operated, Corvin's Floors + Cabinets invite you to visit our gorgeous showroom located at 6727 North Dixie Highway, between Elizabethtown and Radcliff.