TILE CARE & MAINTENANCE
Classic tile beauty is incredibly easy to maintain and care for.
Tile Care Experts in Elizabethtown, KY
Tile is one of the best flooring options to invest in when it comes to long-term beauty. Thanks to the valuable moisture resistance and toughness, tile is extremely easy to care for even in the high-usage areas. Whether it's the rooms more likely to experience spills and standing water like kitchens and bathrooms, or the areas that see the most foot traffic like hallways, foyers, and living rooms, here are some valuable tips for how to clean tile floors the right way: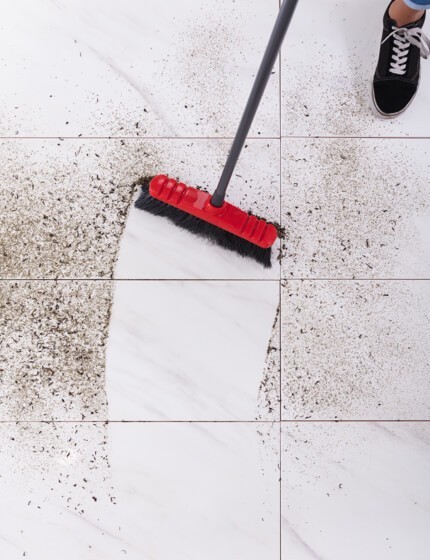 Tile Care considerations
Before cleaning your tile floors, remember these key considerations to protect your tile surface, appearance, and grout, and also avoid creating damage from cleaning. Do not use any stiff bristle brushes or steel wool when cleaning your tile floor or grout. Avoid using any cleaning solutions that contain ammonia, bleach, oil, or acid, or any other cleaning solutions that contain colors or dyes. After cleaning your tile floor, always rinse off cleaning solutions rather than letting them air dry.
Cleaning tile surfaces
Always focus first on removing loose dirt, dust, and other particles from your tile floor. Use a dry dust mop, soft bristle broom, or vacuum with a brush attachment weekly to protect your tile finish. Particles left on the surface can become abrasive so remove them as frequently as possible. Next, mop your tile floor with a mild cleaning solution, either a mild commercial tile cleaner or a simple mixture of water and vinegar. Loosen any stains with a soft bristle brush. Rinse your tile floor to remove all of the cleaning solution and dry your tile floor with a clean towel or microfiber cloth to avoid creating water spots.
Cleaning Grout Lines
If your tile floors contain visible grout lines, it's important to clean these regularly as well in order for your floors to pop the way they should. It's also necessary to clean the grout regularly in order to prevent the unpleasant growth of mold or mildew in the grout lines that can harbor moisture easier. Use a simple mixture of half baking soda and half water to clean your grout or purchase a commercial grout cleaner. Start cleaning your grout in a less noticeable location first and continue cleaning the rest of the grout lines after the initial test.
Proudly serving Elizabethtown and the Central Kentucky area with top flooring, cabinetry, kitchen, bath and countertop solutions. Family owned and operated, Corvin's Floors + Cabinets invite you to visit our gorgeous showroom located at 6727 North Dixie Highway, between Elizabethtown and Radcliff.